Long Beach Zombie Fest 2016 Live Music Line-Up
Check out the awesome talent that awaits you at the Long Beach Zombie Fest.
FESTIVAL HOURS
Friday, October 14th — 5 PM - 10 PM
Saturday, October 15th — 2 PM - 10 PM
Sunday, October 16th — 2 PM - 10 PM
All shows, bands, times are subject to change without notice.


For Contest Information
(including Rules, Categories, Prizes and Times)  -
Brains Eating Contest, Costume Contest, Resident Evil: The Final Chapter Costume Contest CLICK HERE!
The Walking Dead Cosplay Costume Contest and Cosplay Costume Contest CLICK HERE!

SATURDAY NIGHT AFTER PARTY
@10PM HOSTED BY GASLAMP LONG BEACH
with special Meet & Greet with Dead Man's Party - Oingo Boingo Tribute Band
after they perform at the Long Beach Zombie Fest

Gaslamp is the premier live music venue in Long Beach, and is excited to host the Zombie Fest After Party on Saturday night, October 15th.
Located at 6251 E. Pacific Coast HIghway, Long Beach, CA 90803 - Free Parking! For directions CLICK HERE!
Get $20 off a ride or $10 off 2 rides to Long Beach Zombie Fest
Courtesy of Lyft. New users only: Download the Lyft app, enter New User code LBZOMBIE in Payment, and RIDE FOR YOUR LIVES. (Note: once the New User Code is applied in-app and is ready to be used, it will expire after 28 days, so use it before you lose it.)
Get the app, Check-in at Long Beach Zombie Fest, Score a Prize! (First 100 People to Check-In).
TO CLAIM YOUR PRIZE, GO TO THE SOUVENIR PHOTO BOOTH AND SEE THE ATTENDANTS AT THE FRONT OF THE BOOTH.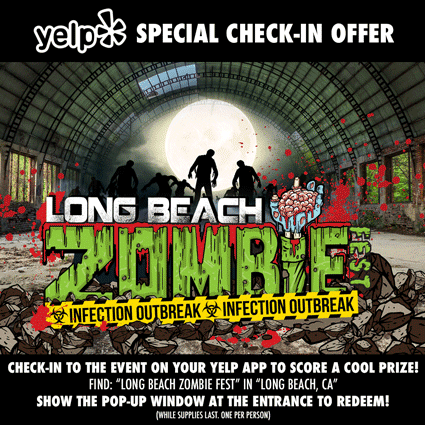 Get  15% off draft and food with proof of attending Long Beach Zombie Fest on Oct. 14-16, 2016 at Public Beer Wine Shop, Long Beach, CA.
Get hand stamped at Main Gate 1 Entrance before leaving for verification. Bar closes at 12AM.
October 15, 2016 - Zombie Art Show til 12AM
Public Beer Wine Shop
121 W 4th St., Long Beach, CA 90802
www.publicbeerwineshop.com
Directions: CLICK HERE!