For Contest Information
(including Rules, Categories, Prizes and Times)  -
Brains Eating Contest, Costume Contest, Resident Evil: The Final Chapter Costume Contest CLICK HERE!
The Walking Dead Cosplay Costume Contest and Cosplay Costume Contest CLICK HERE!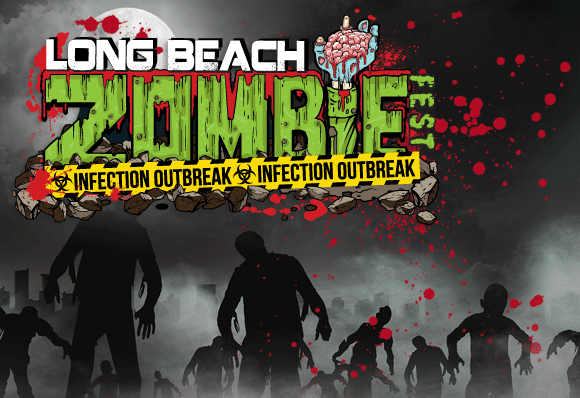 Infamous Long Beach Zombie Walk
Fri., Oct. 14th @6PM, Sat., Oct. 15th @6PM,
and Sunday, October 16th @5PM
The zombie walk is an organized gathering of zombies who make their way into the streets of Long Beach around Shoreline Village (in a roundtrip 35-45 minute walk) in an orderly fashion. During the walk, participants are encouraged to remain in character as zombies and to communicate only in a manner consistent with zombie behavior, which may include grunting, groaning or slurred, moaning calls for "brains." Pose for pictures. Dance like Michael Jackson in the "Thriller" music video. Act out a scene from The Walking Dead. Look menacing. Growl a lot and have fun doing so.
2014 Long Beach Zombie Walk VICTIM - "I'll tell you, last year I was in Long Beach when you folks did the walk down Shoreline.  I had no clue what was going on, and it scared the absolute HELL out of me.  It was AWESOME!!" - B. Davis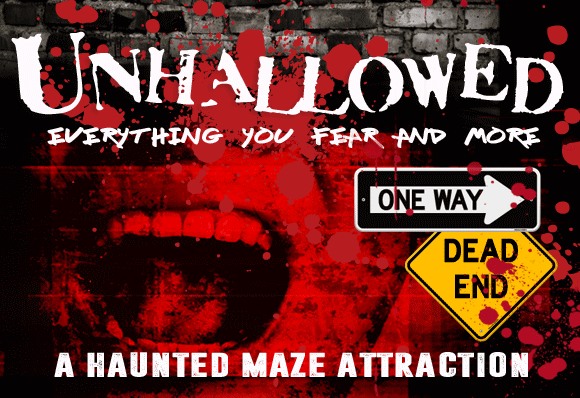 "More frightening than what's available at the Queen Mary's Dark Harbor or Knott's Scarry Farm or similar professional mazes." - Grunion Gazzette
"A haunt that can be compared to a Knott's Scary Farm attraction. As a fan who indulges everything Halloween and attends all the events, I wasn't quite sure what to expect from this maze, but I was quickly impressed." - Long Beach Post
Unhallowed Haunted Maze Attraction - NEW "DEAD END"
Everything You Fear and More...
Have you ever felt…trapped?  Let us show you what it feels like to try to escape from the unseen, that is where the real terror starts.
Annually, Unhallowed picks a new theme and redesigns many aspects of the attraction to ensure repeat visitors have unique experiences. 
For 2016 Unhallowed Productions takes you on an intense and terrifying 3500-square-foot journey through six different scare zones, in this year's themed attraction,
DEAD END
. 
Anyone who's ever visited an Unhallowed maze is aware it's very different from the typical haunt. Incorporating indoor and outdoor scare zones, Unhallowed's DEAD END is sure to disorient even the most seasoned maze goer. The frights are so real that it's easy for groups – limited to between three and six people for an ultimate multi-scare experience – to become separated. This attraction is not recommended for the faint of heart as your fears will be tested to the limits. 
With the dead lurking and waiting around every corner, are you brave enough to face what's lurking on these unhallowed grounds as you try to find the ONLY way out?
TRAILER — VIEWER DISCRETION ADVISED.
Click Here
Appearing Friday, Saturday and Sunday. Additional $4 fee required.
NEW: Zombie Outbreak Interactive Scare Zone -
YOU CAN BE A PART OF THE ACTION!
(become a real-life scareactor)
Unhallowed Haunted Maze: DEAD END is going to have a Zombie Outbreak Scare Zone where festival-goers get to be a part of the maze for 15-minute intervals and onlookers get to watch the action unfold first-hand right in front of their eyes. Availability is on a first-come, first-serve basis. For those not already zombified, Cinema Makeup School, will be providing their expert services FREE to all attendees who need assistance in finding their inner zombie!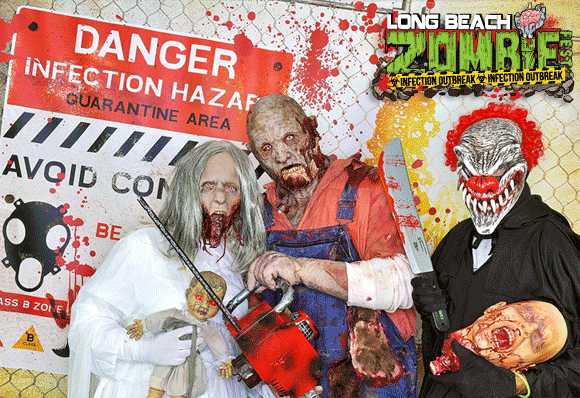 The Official Long Beach Zombie Fest Photo Booth
FREE Souvenir E-Photo with General Admission
Get Dressed Up or Come As You Are! We have quite the doomsday props from body parts, bags of flesh, radioactive masks, brain hats, weapon headbands, severed heads, bleeding glasses, and it keeps going…


Official Event Photo Booth Hours:
Friday, October 14th — 5 PM - 10 PM
Saturday, October 15th — 2 PM - 10 PM
Sunday, October 16th — 2 PM - 10 PM
On a first-come, first-served basis.
(Times are subject to change without notice.)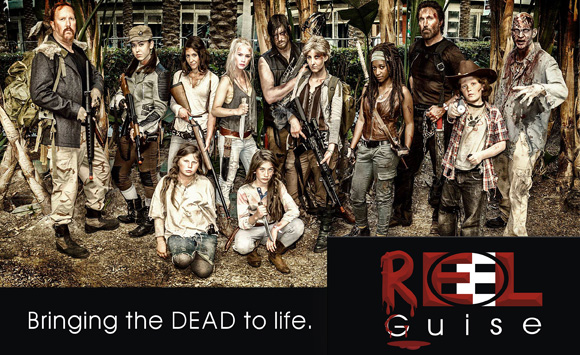 Photo and Video ops are available with the infamous Walking Dead Reel Guise Cosplay.


Appearances by The Walking Dead TV Series Vincent Ward as Oscar
Saturday @4PM and @7:30PM, Sunday @4PM

 
Appearing Saturday 2PM-10PM with intermittent breaks and Sunday 4PM-6PM and 7:30PM-10PM with intermittent breaks.

In addition on Sunday, The Walking Dead Cosplay Costume Contest @6:30PM and Reel Guise Cosplay Workshop 101 @2PM
APPEARING SATURDAY AND SUNDAY @4PM-8PM
In The Walking Dead Interactive Experience
The Walking Dead BEHIND THE SCENES Discussion
Meet & Greet with Fans (photo ops, autographs)
Zombie Walk - Join Oscar in the Zombie Walk
The Walking Dead Cosplay Contest as a Guest Judge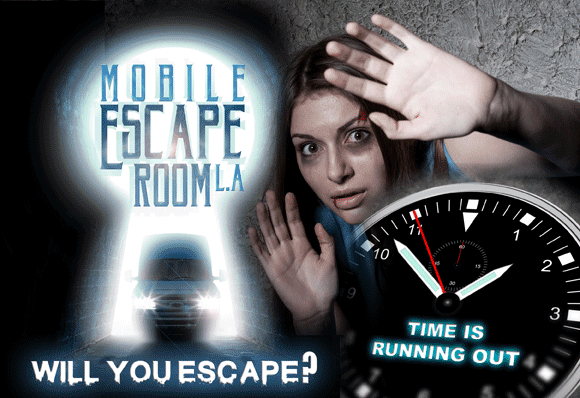 Mobile Escape Room LA - A Live Action Attraction
(A Sleep Study Gone Wrong)
The live room escape experience...
THE SLEEP STUDY ROOM...gather clues, solves puzzles, combine information, decipher codes and ultimately escape from the hands of a madman.
TRAILER — VIEWER DISCRETION ADVISED.
Click Here
Appearing Saturday and Sunday. Additional $8 fee required per person for 15 minutes of game time.
You will find yourself trapped in a madman's Sleep Study room. Follow the clues, solve the puzzles, find the key, escape the room in less than 15 minutes (tick tock, tick tock) or BE LAID TO REST! Will you escape in time? or....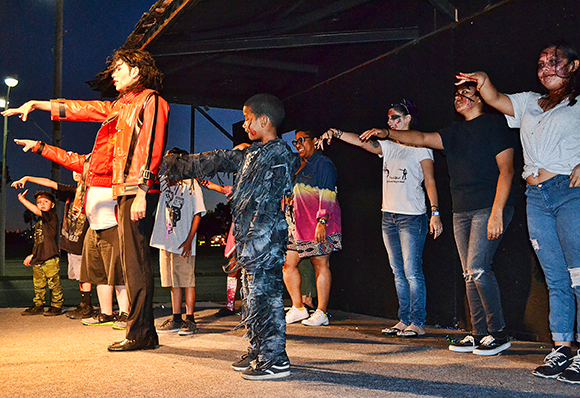 Thriller Workshop
Featuring REMJ -
Michael Jackson Impersonator and Tribute Artist
Find your inner zombie and learn one of the most requested choreographies ever made...THRILLER!
If you have always wanted to learn the famous moves from Michael Jackson's Thriller, or if this an annual tradition and you just want to polish your moves, then this workshop is for you!
This workshop is for everyone, from the complete beginner with no dance experience, to those who've been dancing all their lives. It's about letting loose and having a good time.

Friday, October 14th @7:30PM and Sunday, October 16th @3PM
Special Live Performance - Saturday, @3:45PM


Click Here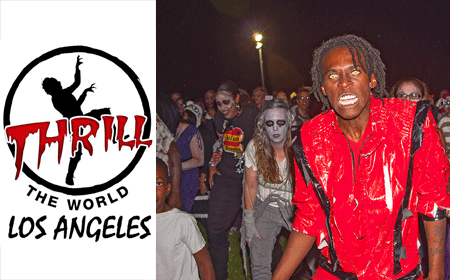 Thrill the World Los Angeles Zombie Flash Mob Workshop
BE A PART OF AN ALL DANCING ZOMBIE FLASH MOB
Thrill The World attempts every year to break the world record for the most dancers dancing to the same choreography of "Thriller" at the same time.
Founded in 2006 by Ines Markeljevic in Toronto, Canada, thousands of zombies worldwide dances to Ines' choreography of "Thriller" in a synchronized event called "Thrill The World", also referred to as "Thrill Day". This year's official Thrill the World "Thrill Day" event will be held on Saturday, October 29, 2016. You are welcome to come and join in, location is yet to be announced.
Appearing Saturday Only. 

2PM-4PM Thrill the World Los Angeles Thriller Zombie Flash Mob Workshops
4:15PM Thrill the World Los Angeles Zombie Flash Mob Performs at Main Stage (be a part of history)
6PM Thrill the World Los Angeles Zombie Flash Mob goes on the infamous Zombie Walk doing impromptu flash mob performances


Click Here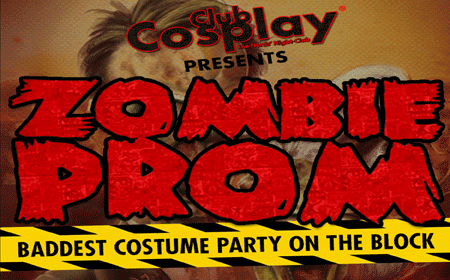 For Every Zombie shall Be Found, that Has the Soul for Getting Down. Will you Stay and Face the Bite, Transforming Outside the Club Tonight. The Zombies Scream in Sheer Delight, it's You they See.... so Lush......so Right. The DJs Groove, it's Good to Eat. He'll have you Dancing to his Beat. You'll try to run, you will try to hide, but the Zombie Prom is RIGHT OUTSIDE!!!
SUNDAY, OCTOBER 16, 2016 @6PM-10PM
ZOMBIE PROM: THE BADDEST COSTUME PARTY ON THE BLOCK
Presented by 
Featuring Host - Richie Lillard, Resident DJs Chuck None and Galactic Ray, Special Guests Fanboy Brandon, LED Transformer MEGA MIKE (12 Foot Robot - Crowd Performer), REMJ - Michael Jackson Tribute Artist, Master Splinter and The Shredders - Turtle Band AND MORE...
PLUS, THE BIGGEST, BADDEST HALLOWEEN COSTUME PARTY OF ALL TIMES.

OPEN TO ALL COSTUMES AND NON-COSTUMES. STARS WARS, GHOSTBUSTERS, ALICE IN WONDERLAND, ETC.
Click Here