For Contest Information
(including Rules, Categories, Prizes and Times)  -
Brains Eating Contest and Costume Contest CLICK HERE!
Over $5,000 dollars worth in contest prizes.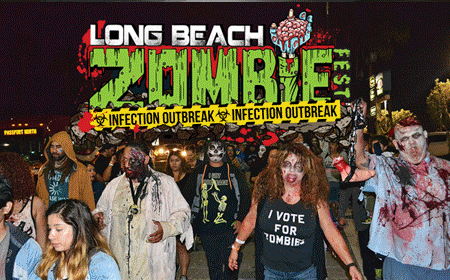 Infamous Long Beach Zombie Walk
Fri., Sat., and Sun. @7PM
The zombie walk is an organized gathering of zombies who make their way into the streets of Long Beach by Shoreline Village and around The Pike through the Harbor (in a roundtrip 35-45 minute walk) in an orderly fashion. During the walk, participants are encouraged to remain in character as zombies and to communicate only in a manner consistent with zombie behavior, which may include grunting, groaning or slurred, moaning calls for "brains." Pose for pictures. Dance like Michael Jackson in the "Thriller" music video. Act out a scene from The Walking Dead. Look menacing. Growl a lot and have fun doing so.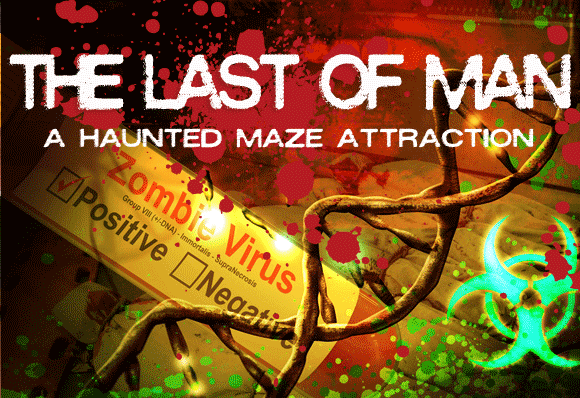 "More frightening than what's available at the Queen Mary's Dark Harbor or Knott's Scarry Farm or similar professional mazes." - Grunion Gazzette
"A haunt that can be compared to a Knott's Scary Farm attraction. As a fan who indulges everything Halloween and attends all the events, I wasn't quite sure what to expect from this maze, but I was quickly impressed." - Long Beach Post
Unhallowed Haunted Maze Attraction - "THE LAST OF MAN"
Everything You Fear and More...
For 2017 Unhallowed Productions takes you on an intense and terrifying 3500-square-foot journey in this year's themed attraction, THE LAST OF MAN. 
The haunted maze leads you through an abandoned government facility with a deadly virus circulating through the air. How long can you survive?

IF YOU DARE the butcher is waiting for you in the Zombie Chop Shop for a photo op that will leave you in pieces.

Appearing Friday, Saturday and Sunday. OPENS AT 5PM. Additional $4 fee required.

PLUS: Zombie Outbreak Cage with a 12ft. Guard Tower
Interactive Quarantine Scare Zone
YOU CAN BE A PART OF THE ACTION! IT'S FREE!
The tables are turned when you enter the interactive Zombie Outbreak Cage, where you're given 15 minutes to draw blood-curdling screams from your victims —  festival-goers get to scare the hell out of people.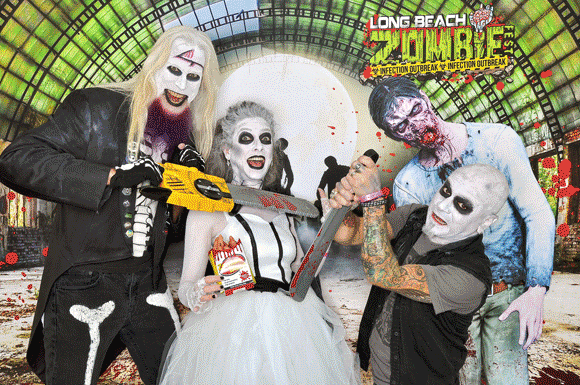 The Official Long Beach Zombie Fest Photo Booth
FREE Souvenir E-Photo with General Admission
Get Dressed Up or Come As You Are! We have quite the doomsday props from body parts, bags of flesh, radioactive masks, brain hats, weapon headbands, severed heads, bleeding glasses, and it keeps going…

On a first-come, first-served basis.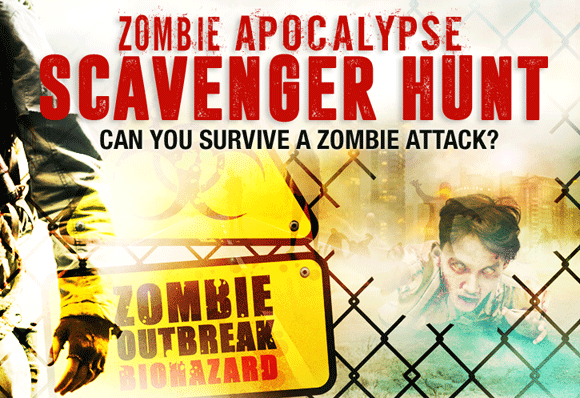 $34 Value Constellation Prize (10) Winners each day. THE RiDE 7D is Southern California's craziest virtual thrill ride at the Irvine Spectrum Center. It's an Immersive, Interactive Motion Ride Experience. You will feel the thrill of a rollercoaster and the excitement of a state-of-the-art laser blasting game all in one!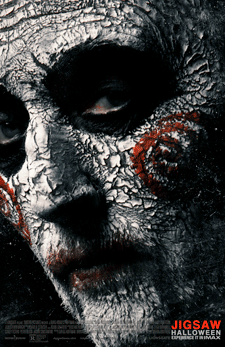 RUNNER-UP gets two tickets to see Jigsaw the movie. Thirteen years ago on Halloween weekend – SAW and the character of JIGSAW introduced the world to a new face of horror.  This October 27… Lionsgate and Twisted Pictures proudly present JIGSAW! After a series of murders bearing all the markings of the Jigsaw killer, law enforcement find themselves chasing the ghost of a man dead for over a decade and embroiled in a new game that's only just begun. SEE MOVIE TRAILER CLICK HERE.
Zombie Apocalypse Scavenger Hunt
Can you survive a zombie attack? 
Find out which of your friends have what it takes to survive the zombie apocalypse and which ones are sitting zombie bait! In this zombie scavenger hunt players have to answer questions to test their zombie survival knowledge in an containment zone.
Then you race around the event. The race is split into five legs, with each leg requiring you to deduce clues, navigate yourself in different areas, interact with locals, perform physical and mental challenges.  
Appearing Fri., Sat. and Sun. Closes @9PM Fri. /Sat. and @8PM Sun.
For Friday Only: One winner will receive (4) VIP passes to MABLE'S 6 Feet Under haunted maze. $100 Value! For Saturday and Sunday Only: One winner each day, will each receive 10 tickets (for 10 players) for Big City Hunt (Scavenger Hunt). $110 Value!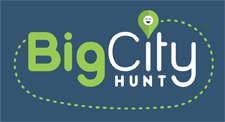 Big City Hunt is an epic scavenger hunt adventure that will show you the best sights and some hidden gems in your city. Start your epic adventure at scavengerhunt.com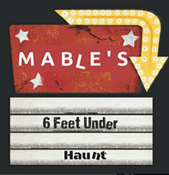 Mable's 6 Feet Under Haunted Motel is a haunted attraction that's an actual maze. Once you're there, our little girl Mable won't want you to leave. She lives in the motel.... Just when you think you have found your way, she will add another trick to turn you back. Come to the MOTEL. Check in. Then get lost.
The Escape Bus - A Live Action Attraction
The live room escape experience...
FIREWALL - this is not your standard combination lock style room, but rather a creative use of technology combined with locks. Expect to try the unexpected...not your typical escape room by any means. Prepare yourself to be surprised.
Appearing Friday and Saturday. Additional $12 fee required per person for 14 minutes of game time.
If you want to book your spot ahead of arriving at Long Beach Zombie Fest you can, http://theescapebus.com/bookonline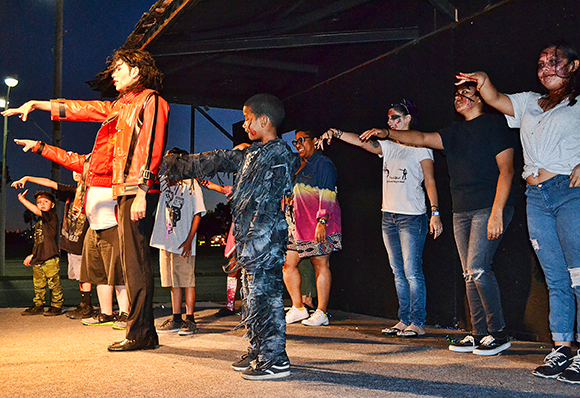 Thriller Workshop
Featuring REMJ -
Michael Jackson Impersonator and Tribute Artist
Find your inner zombie and learn one of the most requested choreographies ever made...THRILLER!
If you have always wanted to learn the famous moves from Michael Jackson's Thriller, or if this an annual tradition and you just want to polish your moves, then this workshop is for you! This workshop is for everyone, from the complete beginner with no dance experience, to those who've been dancing all their lives. It's about letting loose and having a good time.

Friday, Oct. 20th @9PM, Sat., Oct. 21st @5:45PM, Sun., Oct. 22nd @6:30PM.
w/Prizes - Free movie tickets to see Lionsgate and Twisted Pictures JIGSAW
Special Live Performance - Saturday, Oct. 21st @4:30PM



Click Here