Welcome to the official website of
The Long Beach Zombie Fest and Infamous Zombie Walk
The Annual 2017 Long Beach Zombie Fest will be held October 20-22, at the Rainbow Lagoon in Long Beach, California. The infamous Zombie Walk will be happening on all three days as well as Free Zombie Make-up services to all attendees by artists from Cinema Makeup School to help anyone look their gory worst. Costumes are encouraged, but not mandatory. COME DEAD OR ALIVE!
The Zombies are Coming...
Join hordes of rotting revelers for Long Beach's annual zombie outbreak, a THREE DAY invasion of undead music and horror for all ages! This apocalyptic festival is a jam-packed day of live entertainment and a horde of other fun activities. With costume and brain contests for all ages and stages of decay, and of course, thousands of Zombies, it would be horrific to miss this jam-packed event.
Haunted maze with a Interactive Zombie Outbreak Cage and 12ft. Guard Tower.
FREE ZOMBIE MAKE-UP by Hollywood special effects make-up artists from Cinema Makeup School to help you look your gory worst FREE to all attendees.
The Infamous Zombie Walk (all three days) Fri. and Sat. @7PM and Sun. @5:30PM

Live 100+ Interactive Reptile Exhibit with a Fear Factor Attraction by S.C.H.A.R. that will push you to face your biggest fears.

THE FEAR FACTOR ROOM! by S.C.H.A.R.

Zombie Apocalypse Scavenger Hunt
Thriller Workshop - open to all skill levels that will teach you the infamous choreography seen in Michael Jackson's Thriller video.
The Escape Bus - the live room escape experience... (Sat. and Sun.)

Dystopia Rising: SoCal presents Zombie Survival LARP - interactive attraction where you will try and survive against a continuous horde of Zombies. (Sat. and Sun.)

Zombie Watusi Dance Contest - Undead FUN for Everyone!
Join in with Thrill The World Los Angeles Flash Mob for impromptu Thriller performances on the Zombie Walk throughout Long Beach. (Sat.)

Costume Contest (all three days) (see Highlights for Contest Details)
Killer Theatre showcasing Elftwin Films (Short and Full Feature Films) - ROTTING LOVE with a Behind the Scenes Discussion.
Killer Theatre showing Full Feature Films CREPITUS, Beach Massacre at Kill Devil Hills starring Horror Actress Chalet Brannan with a Behind the Scenes Discussion. ENTERTAINMENT WEEKLY Article
Darin "Dangerous D" Malfi Ultimate Shock Show that tests the limits of the human body and is known for wild, cringe-worthy stunts.
BRAINS Eating Contest (all three days - Kids and Adults) (see Highlights for Contest Details)
Meet and Greet with Chalet Brannan, Sam in Crepitus...will be Signing Autographs, interacting with fans and doing photo ops!
EPIC HALLOWEEN CONCERT: - Dead Man's Party - Oingo Boingo and Danny Elfman Tribute Band with The Surfin' Dead (The Cramps Tribute), The Great Pumpkin (The Smashing Pumpkins Tribute), and The Cured (The Cure Tribute) (Sun.)
Southland Ghosbusters and Car
Phantom Coaches Hearse Club
Zombie Outbreak Response Team with Command Station and Squad Car
Umbrella Corps of Los Angeles with Response Car
MONSTER BASH HALLOWEEN PARTY! - DJ Mashup (Fri.)
Exhibitors/Vendors featuring the Little Shop of Horrors Marketplace.
Food Court with festival food and tasty treats for the hungry ghouls and gals, and adult beverages: Beer, Wine, Liquor drinks — "Screaming Zombie" and Margaritas for our 21+ crowd; exclusive at our Zombie Bar
All guests get a FREE souvenir E-photo with admission! Don your gruesomest apparel and make-up – and don't worry, we'll have Cinema Makeup School special effects make-up artists on hand ready to give you a zombie transformations if you need help revealing your inner flesh-eater! FREE!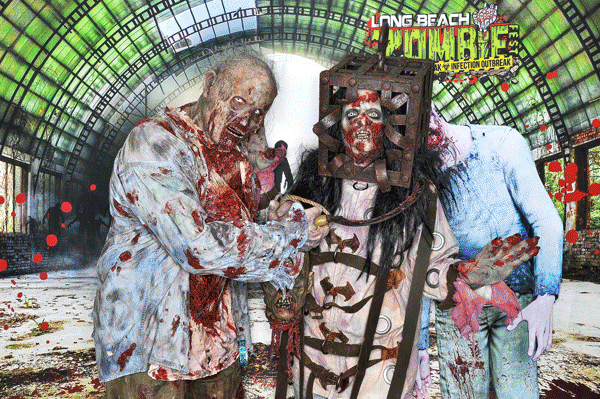 ZOMBIFICATION ZONE (FREE TO ATTENDEES) On a first-come, first-served basis - Cinema Makeup School, Hollywood's professional makeup school, will be providing their expert services FREE to all attendees who need assistance in finding their inner zombie! Founded in 1993, Cinema Makeup School has been providing students with the skills they need to become professional makeup and special effects artists for over 20 years. Their instructors are Emmy and Academy Award Winning makeup artists who bring their knowledge and expertise into the classroom. For more information, please visit www.cinemamakeup.com
---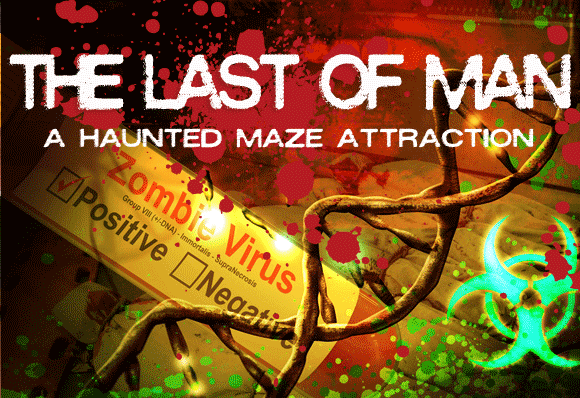 PLUS: Zombie Outbreak Cage
with a 12ft. Guard Tower
An Interactive Zombie Outbreak Cage
Unhallowed Haunted Maze: THE LAST OF MAN is going to have a Zombie Outbreak Cage where festival-goers get to scare the hell out of people.
Unhallowed Haunted Maze Attraction - "THE LAST OF MAN"
Everything You Fear and More...
For 2017 Unhallowed Productions takes you on an intense and terrifying 3500-square-foot journey in this year's themed attraction, THE LAST OF MAN. 
Gain access into a facility that once was home to a government project known as The Last of Man. It is believed an airborne virus is trapped inside infecting all who enter. How long can you survive?

IF YOU DARE the butcher is waiting for you in the Zombie Chop Shop for a photo op that will leave you in pieces.

Appearing Friday, Saturday and Sunday. OPENS AT 5PM. Additional $4 fee required.
---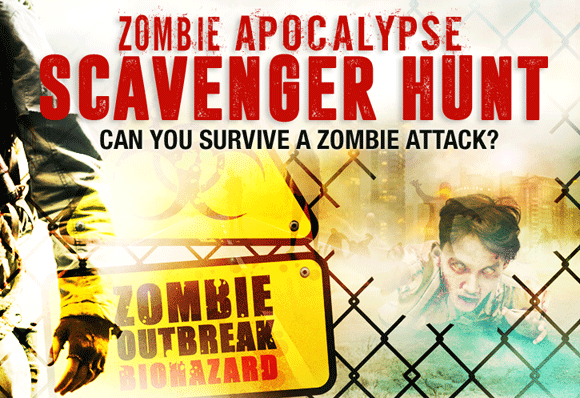 Zombie Apocalypse Scavenger Hunt
Can you survive a zombie attack? 
Find out which of your friends have what it takes to survive the zombie apocalypse and which ones are sitting zombie bait! In this zombie scavenger hunt players have to answer questions to test their zombie survival knowledge in an containment zone.

 

Then you race around the event. The race is split into five legs, with each leg requiring you to deduce clues, navigate yourself in different areas, interact with locals, perform physical and mental challenges.

Appearing Friday, Saturday and Sunday.
---
It will push you to face your biggest fears! Those who dare to put their hand in the boxes to determine "What is it?"  might discover it is filled with giant hissing cockroaches, flesh-eating worms, crickets, stink beetles or maybe something more grotesque. For many, the fear of the unknown will be less frightening than any of the creatures to crawl/slither on them. If you think you're brave enough to face your fears, then enter the FEAR FACTOR ROOM! Brought to you by S.C.H.A.& R. 
---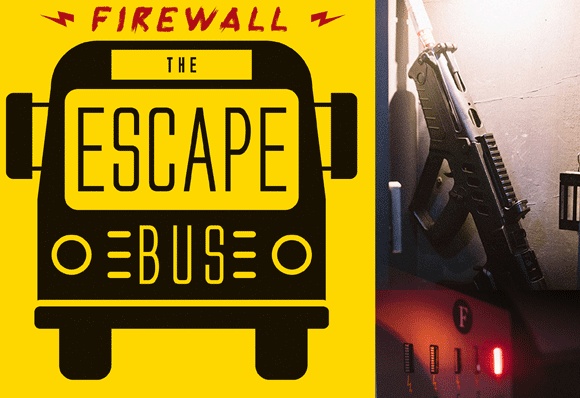 The Escape Bus - A Live Action Attraction
The live room escape experience...
FIREWALL - this is not your standard combination lock style room, but rather a creative use of technology combined with locks. Expect to try the unexpected...not your typical escape room by any means. Prepare yourself to be surprised.

Appearing Saturday and Sunday. Additional $12 fee required per person for 14 minutes of game time.